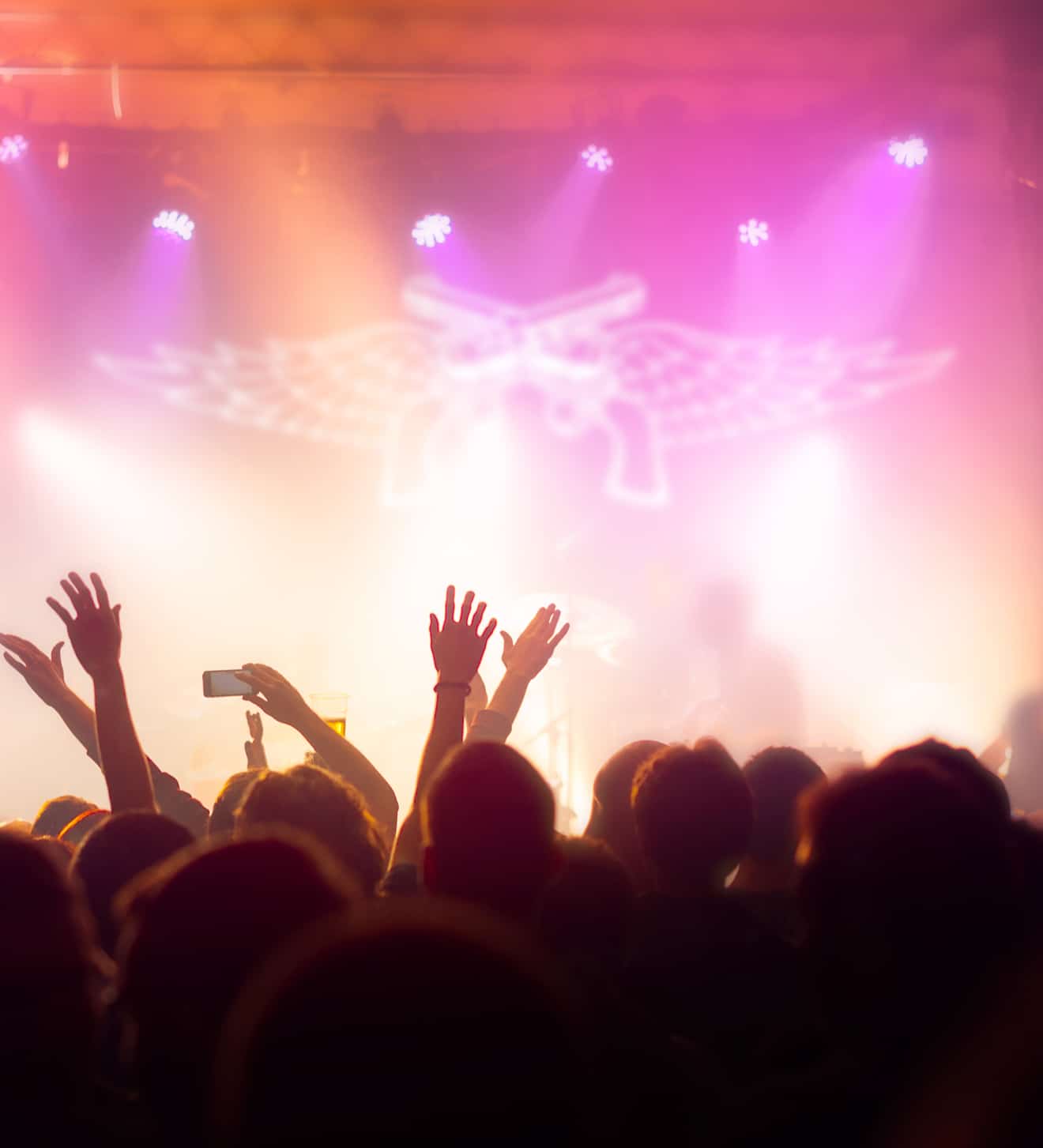 2 STAGES WITH LIVE MUSIC
1
Miranda's Casa Rosa has 4 levels of great entertainment, 2 stages of live music , and 5 bars to keep everyone in the party mood. Eat, drink, and make memories with your family, old friends and make new friends at this one-of-a kind Nashville experience.
Whether it's chillin' in the Cantina, or heating it up at the Star Buckle Bar, every night is a "caliente fiesta" in Nashville on Broadway.
CHECK OUT THE TALENT PLAYING "THE CASA" THIS WEEK!
FEATURED ARTIST OF THE MONTH
Jessie Wilson is a singer/songwriter from Phenix City, Alabama. Her southern accent is mixed with a sultry and unique tone to create a voice that you won't mistake for another's.
Leaving behind her past career of being an elementary school teacher for 5 years, she resides in Nashville, TN where she is constantly growing as a performer and songwriter. She plays an average of 200+ shows a year and has written over a couple of hundred songs. Jessie's work ethic, passion, and natural ability to capture an audience are what continue to pave the way for her music endeavors.
Her major musical influences include: Miranda Lambert, Morgan Wade, and Lori Mckenna. Jessie has shared the stage with artists such as; Craig Morgan, Gary Allan, Jamey Johnson, John Driskell Hopkins, Tommy Emmanuel, and more. She has 2 singles that'll be released in October/November and her debut EP in early 2023.
MUSIC Lineup • NOVEMBER 28 – DECEMBER 4
MONDAY • NOVEMBER 28
11 AM
• DARIANN LEIGH • FIRST FLOOR
2 PM
• RACHEL SCHUMACHER • FIRST FLOOR
6 PM
• ROB RISER • FIRST FLOOR
10 PM
• ALY CUTTER • FIRST FLOOR
…………..
TUESDAY • NOVEMBER 29
11 AM
• CHLOE CHANNELL • FIRST FLOOR
2 PM
• BLAKE HALL • FIRST FLOOR
6 PM
• CAMERON LENZ • FIRST FLOOR
10 PM
• TANGLEWOOD • FIRST FLOOR
…………..
WEDNESDAY • NOVEMBER 30
11 AM
• ALEXA GOLDIE • FIRST FLOOR
2 PM
• MACY KREW • FIRST FLOOR
6 PM
• COLE PHILIPS • FIRST FLOOR
10 PM
• TRENT GLISSON • FIRST FLOOR
…………..
THURSDAY • DECEMBER 1
11 AM
• NALANI & JOSH • FIRST FLOOR
2 PM
• BRIAN THOMAS • FIRST FLOOR
6 PM
• CHRIS ALLEN • FIRST FLOOR
6 PM
• Aly CUTTER • CANTINA
9 PM
• DJ FEELZ • MIRANDA'S ROOFTOP
10 PM
• ADAM CARSON • FIRST FLOOR
10 PM
• BOBBY MCCLENDON & THE DRC • CANTINA
…………..
FRIDAY • DECEMBER 2
11 AM
• BRIAN THOMAS • FIRST FLOOR
11 AM
• ASHLEY CHAPMAN • CANTINA
2 PM
• JESSIE WILSON • FIRST FLOOR
2 PM
• HENRY MARTIN • CANTINA
6 PM
• NICK WALKER • FIRST FLOOR
6 PM
• KALEY & CO. • CANTINA
10 PM
• BEACH HOUSE • ROOFTOP
10 PM
• CHRIS BULLARD • FIRST FLOOR
…………..
SATURDAY • DECEMBER 3
10 AM
• JESSIE WILSON • FIRST FLOOR
11 AM
• ASHLEY CHAPMAN • CANTINA
2 PM
• CASH CRAWFORD • FIRST FLOOR
2 PM
• ADAM BRUNO • CANTINA
6 PM
• LAZER & LEVI • FIRST FLOOR
6 PM
• BLACKOUT NASH • CANTINA
10 PM
• BEACH HOUSE • ROOFTOP
10 PM
• SKYE CLAIRE • FIRST FLOOR
…………..
SUNDAY • DECEMBER 4
10 AM
• BRIAN THOMAS • FIRST FLOOR
11 AM
• NALANI & JOSH • CANTINA
2 PM
• JOHNSON JAY • FIRST FLOOR
2 PM
• AMBER DELACRUZ • CANTINA
6 PM
•JOE BARRON • FIRST FLOOR
6 PM
• JANUARY NOISE • CANTINA
9 PM
• DJ TRAVIE • ROOFTOP
10 PM
• CHRIS BULLARD • FIRST FLOOR
…………..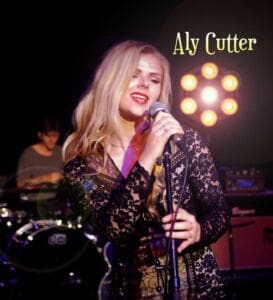 ALY CUTTER
The Aly Cutter Band is a Nashville based female fronted Rock Pop fusion group bringing you all your favorite artist's hit songs throughout the decades that you forgot you loved so much. Expect the unexpected. A.C.B. pulls from all of the bands vast influences to bring you a dynamic, high energy show you won't find anywhere else. World class musicianship and stylistic vocals transform your favorite cover songs into memorable moments. Catch yourself saying "Oh My God, I love this song!" over and over!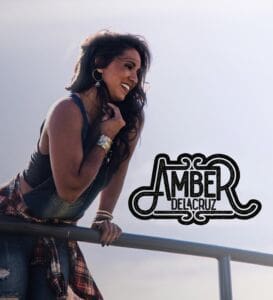 AMBER DELACRUZ
Like most country artists, Amber DeLaCruz grew up in small town America. Her roots run deep in Callahan, Florida. She developed an intense love for music as a teen and was leading her church choir by the age of 16. Filipino-American, with a redneck wild side, Amber embraces her country roots and her music proves just that.
After graduating high school Amber continued to pursue music, she has performed at a number of music festivals and shows, opening for top names in the industry. She even won the Jacksonville Giant Showcase. After exhausting resources in Florida, in 2015, Amber decided to follow her dreams to Nashville.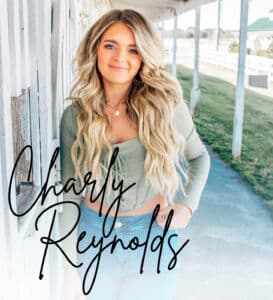 CHARLY REYNOLDS
Charly Reynolds, a charismatic 22-year-old singer-songwriter, is making her place in country music. The singer, born and raised in the sunshine state of Florida and her upbringing evident in the beach blonde's sunny disposition, just had her version of "Neon Moon" featured in the Season 5 finale of FOX's provocative medical drama THE RESIDENT. Her new single "Rodeo," is slated for release on June 3rd.
Reynolds has had the privilege to share the stage with some of Country Music's top-named acts including Billy Dean, Montgomery Gentry, John Schneider (Bo Duke of "The Dukes of Hazzard"), and Darryl Worley as well as performing at fairs and festivals across America and at Nashville's most prestigious venues including Miranda Lambert's Casa Rosa.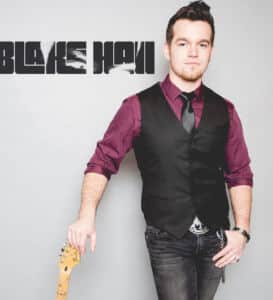 BLAKE HALL
Blake Hall was dropped into a world of music at the age of four, when his family moved from Palatka, Florida to Hendersonville Tennessee. At five years of age, he started his musical journey with guidance and lessons from his father.
By the age of ten, Blake made his debut on the stage. He would go on to start playing an array of instruments like drums, bass, keyboard, and even started singing and writing songs.
When he is in Nashville, Blake works diligently toward his solo career by writing, recording, and co. producing his own works. Blake can be seen in many clubs like Tequilla Cowboy, Luke Bryan's 32 Bridge, FGL House, Jason Aldean's Kitchen + Rooftop Bar, and Crazytown on the famous "Lower Broadway" in the heart of Nashville.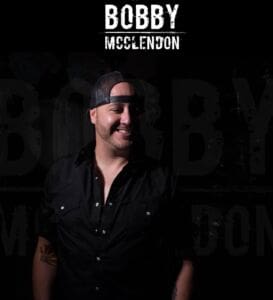 BOBBY MCCLENDON
Hard work, determination, and sacrifice define Bobby McClendon. Years of hard work and a determination to succeed at the highest level have paved the way and sharpened the skills of this artist. After relocating to Nashville 6 years ago by way of Yuma, Arizona, Bobby has toured the country, honing his craft on stages large and small, developing one of the most dynamic live shows in any genre of music.
The list of those that Bobby has shared the stage with continues to grow- Little Big Town, Jason Aldean, Lauren Alaina, Michael Ray, Old Dominion, Thomas Rhett, Ryan Hurd, Lee Brice, Dustin Lynch, and Kane Brown to name a few.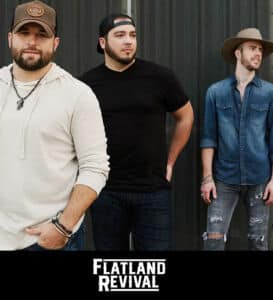 FLATLAND REVIVAL
Casey Edgar, lead singer for new Country-rock outfit, Flatland Revival, is from Stroud, Oklahoma, a small town nestled in the heart of the great American highway, Route 66. Just like that picturesque highway, Edgar's songs are populated with vivid scenes and characters straight out of the American heartland. He brought his guitar and his experiences growing up on the Oklahoma plains to Nashville TN, where he has honed his writing style with many of the city's top tunesmiths, and perfected his performing skills in the honkey-tonks of Nashville's Lower Broadway. "Nashville is a very inspiring place to live," says Edgar, "it has a way of pushing artists to their full potential. And the hard work reflects the heritage of Country Music".
Flatland Revival is about to do a series of shows to promote their soon to be released EP, Bible Belt Kid. It will be a full circle moment for Casey Edgar, a hometown boy returning to his roots.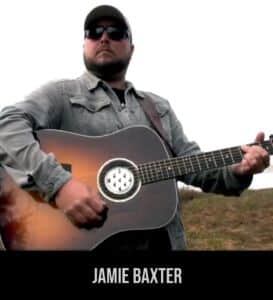 JAMIE BAXTER
We'll go ahead and say it now; remember the name Jamie Baxter. If you're not on the bandwagon yet, there's no better time than now to jump on.
With the release of his debut EP Memories Don't Fade Here, Baxter is making waves. The EP, which features Baxter's vocal exploding through the speakers throughout the five-song release, debuted at number 8 on the iTunes country chart. At its peak, Memories Don't Fade Here sat above Chris Stapleton's Traveler and Tyler Childers' Country Squire.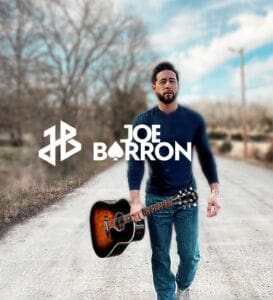 JOE BARRON
​Country Artist Joe Barron was born and raised in EL Paso, TX, and currently resides in Nashville, TN where he writes and performs full time. His authentic red dirt sound that he attributes to the discovery of his parents' George Strait collection, includes influences of R&B and Rock and Roll. Joe's passion for music began when a bull riding accident halted his baseball and football career, and he found himself at home with his grandfathers guitar.
In early 2011, Joe took the initiative to form a full band and started gigging, quickly earning a reputation for his live energetic shows and captivating stage presence. Upon arrival to Nashville in 2016, Joe quickly secured residencies at the renown Jason Aldean, Luke Bryan, and Florida Georgia Line Honky Tonks, to name a few.
MIKE BEACH
One voice that you won't want to miss! Singer/Songwriter/Artist Mike Beach, originally from Indianapolis, Indiana but now calls Nashville his home, always performs from deep inside his soul and heart.
"I love a song that takes me on a journey or helps me move through life." "Songs are the most powerful thing in this world, sometimes they have a way of burning our soul forever, almost like a scent can bring back some moment in time from years ago, for me songs are that very thing, they always have a way of taking me back to a heartbreak, family, friends, back to a hundred first times, high school and teenage memories."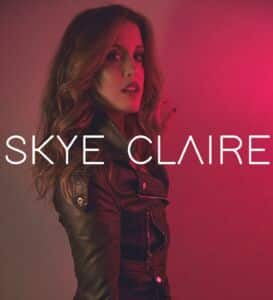 SKYE CLAIRE
In 2018, Skye was ready to embrace her true self as an artist and let go of all expectations of where her music belonged. Her unique voice and sound didn't ever truly feel free to fly in Country Music. She felt a strong pull back to the sound of heavy guitars and swaying creativity of pop phrasing and followed that call during a year long journey of writing and self exploration. This journey culminated in the release of Skye's first rock single, Always Come Back, in August 2019. Look out for more from this unique artist and songwriter as she continues to carve out her own path.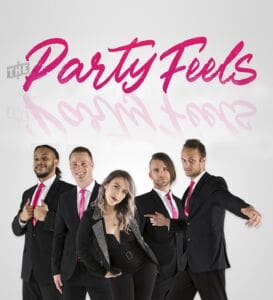 THE PARTY FEELS
This band will make your night. TPF fuel inject's your night with high energy hits from the past to the present and get you up and dancing and feeling all the feels.
Born out of the idea of a more unique action packed party band experience, TPF is here to bring fun, youthful energy, professionalism & that "Wow" factor making the best night of your life.